August 16, 2023 – Varjo, a provider of professional-grade virtual and extended reality (VR/XR) hardware and software, has this week announced its partnership with Vertex Solutions, a developer and integrator of XR flight simulators for the U.S. Department of Defense (DoD).
As a result of the partnership, Varjo will provide virtual and mixed reality (MR) technologies for  Vertex Solutions' rotary- and fixed-wing XR flight simulators. In addition, all U.S. Air Force (USAF) undergraduate rotary-wing XR pilot training will be accomplished using Vertex Solutions devices equipped with Varjo Aero and XR-3 Focal Edition mixed reality headsets.
Vertex Solutions' Multi-Place Mixed Reality (MPMR) Flight Simulator equipped with Varjo XR-3 Focal Edition headsets will be evaluated for an Advanced Aviation Training Device or Flight Training Device (FTD) Level 7 FAA certification, which is a first for rotary-wing XR training, according to Varjo.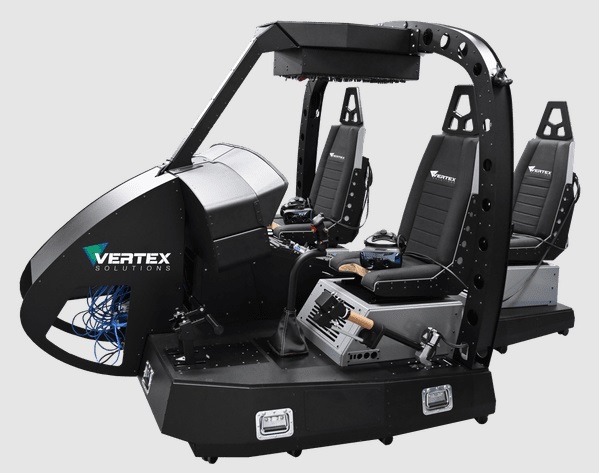 "Vertex is honored to have won three out of three advanced pilot training contracts with Defense Innovation Unit: an overall integrator of Pilot Training Transformation (PTT); the Multi-Place Mixed Reality flight simulator; and, our most recent win, Fighter/Bomber Fundamentals MR enhanced fast jet trainer. Our success is dependent on partners we can trust to deliver high-quality products at the speed of innovation, and Varjo and Vertex Solutions' simulators make a great match for delivering best-in-class pilot training to the US Department of Defense," said Vertex President and COO Dennis Wikoff.
Varjo noted that previously, the USAF used Weapon System Trainers (WSTs) and Operational Flight Trainers (OFTs) to train pilots, which are costly and have outdated visuals and fewer capabilities. The companies stated that the Vertex replacement devices will save the DoD USD $3 million. Furthermore, the devices will have almost no additional infrastructure costs since they can fit in a typical office space, are powered by standard 110VAC, and require no additional heating, ventilation, or air conditioning.
In previous USAF fixed-wing efforts utilizing Vertex's XR solutions, the time to solo (the amount of practice and training a pilot-in-training needs before they are allowed to fly an aircraft on their own without the presence of an instructor) has been reduced by 30-50% and, in some cases, up to 70%, according to Varjo.
"The use of XR in rotary training replacing outdated WSTs is a big step forward for the industry," said Timothy 'TJ' Moser, Vertex Air Force Business Unit Lead and former 19AF Deputy of Operations for the Pilot Training Transformation program in Air Education and Training Command (AETC). "USAF cannot compromise on the quality of its training, but will always strive for ways to save time and costs while providing the highest quality training experience, so we're looking forward to integrating the latest and greatest mixed reality technology into their training."
The Varjo XR-3 Focal Edition is specifically designed for use in the cockpit, given the reduced focal length of the 4K cameras optimized for items within arm's length. With the enhanced mixed reality capabilities of Varjo's hardware, pilots can read instruments as if they were in a real cockpit and continue to scan outside the window.
"We're thrilled to partner with Vertex Solutions to improve USAF's flight simulators," said Seppo Aaltonen, Chief Commercial Officer of Varjo. "Due to its potential for FAA certification, tactile feel, and the mixture of affordable visuals and realism, mixed reality solutions are the future of pilot training."
The companies stated that the MPMR prototype recently went through rigorous user experience validation and will be operational in early 2024. Combined with the ten VR simulators already incorporated in the USAF syllabus, Varjo and Vertex Solutions, along with other partners, will exclusively provide simulation solutions for USAF undergraduate rotary-wing training.
To learn more about Varjo and its human eye resolution XR headsets, click here. To learn more about Vertex Solutions and its mixed reality flight simulators, click here.
Image credit: Varjo / Vertex Solutions

Sam Sprigg
Sam is the Founder and Managing Editor of Auganix. With a background in research and report writing, he has been covering XR industry news for the past five years.