September 6, 2023 – holoride, a provider of virtual reality (VR) in-vehicle entertainment, has announced that it has partnered with videociety and its maxdome brand to release 'holoride cinema,' a new app that will allow passengers to use holoride's motion-synchronized in-vehicle entertainment platform to stream content from maxdome, a national streaming provider in the DACH region.
According to holoride, subscribers who use the app will see their streaming selections broadcast on a virtual screen that is surrounded on all sides by a digital environment that shifts and transforms in sync with the movements of the real-world vehicle. This gives passengers the ability to watch movies and TV series during any car ride, with the motion-synced digital landscape helping to reduce or even eliminate the impacts of motion sickness.
holoride stated that the new partnership with videociety/maxdome represents a big step toward a more diversified content library. The new holoride cinema app expands the virtual entertainment offering for users with a wide selection of movies and series that passengers can stream during their car ride. Maxdome's extensive video-on-demand library is one of the largest streaming portals in the DACH region, with more than 11,000 films, including the latest blockbusters and 100-plus 3D films, and 4,700 series available to be experienced at any time in VR.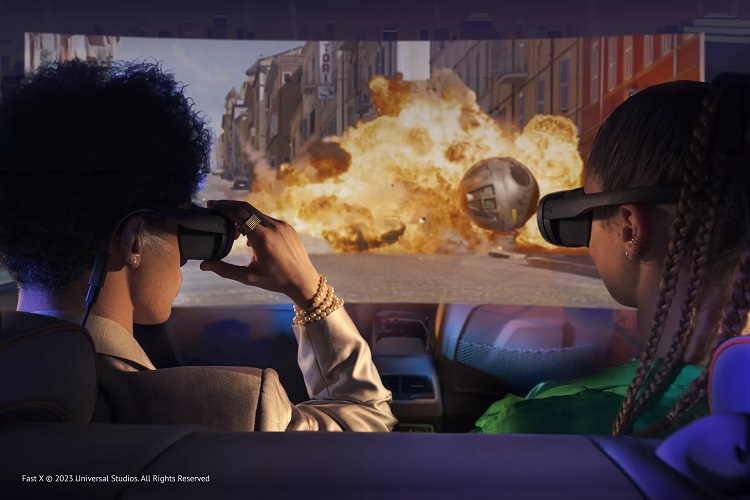 Furthermore, the app allows users to choose between three different screen sizes: 13-foot, 16-foot, and 20-foot, with the virtual distance to the screen being about 18 feet. Additional customization options allow users to choose between a curved or a flat screen, as well as four different positions for the screen height. Content selections are made via eye tracking and a controller that comes with the VR headset. Initially, three themed ambient backgrounds are available, and those can be further personalized with different colors and brightness levels.
"We are really excited to take our immersive in-vehicle entertainment offering to the next level," said holoride CEO Nils Wollny. "With maxdome as a strong partner offering one of the largest movie and series catalog for VoD in the DACH region, we are launching the world's largest in-vehicle screen – and unlocking the capability to turn every car ride into an extraordinary cinematic experience."
Hans D. Henseleit, Managing Director of videociety GmbH, added: "holoride is the smart way to experience entertainment 'on the go,' which we are further enriching with our extensive maxdome content. With holoride and videociety, two passionate tech companies are joining forces to make being on the go a real entertainment experience, and the car a second living room."
To learn more about holoride and its in-vehicle virtual reality entertainment platform, click here. To find out more about videociety and its streaming provider brand maxdome, click here.
Image credit: holoride

Gavril Puskas
Gavril is a knowledgeable contributing author at Auganix. An experienced XR industry news curator, he has been keeping abreast with the latest AR, VR and tech developments for the last four years.