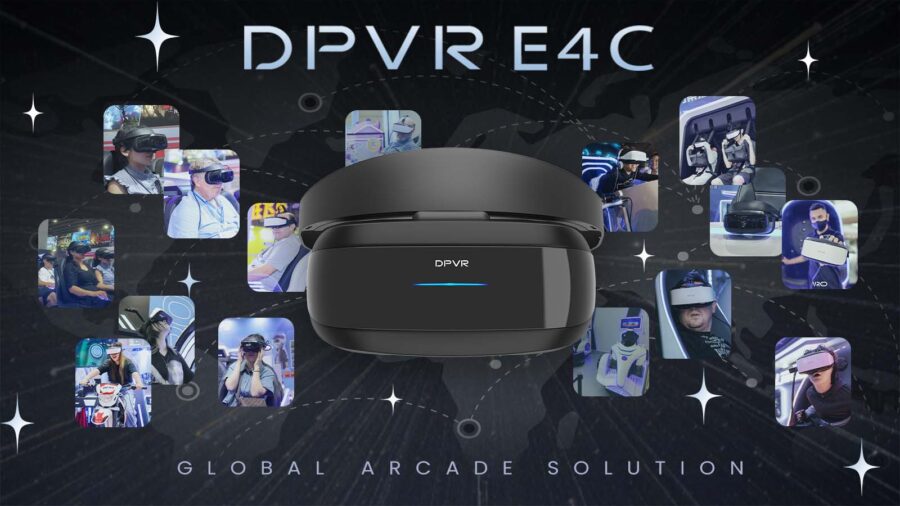 October 19, 2023 – DPVR, a Shanghai-based virtual reality (VR) headset manufacturer, has revealed its latest addition to the arcade industry with the introduction of its new 'E4C' headset. According to DPVR, the E4C is designed to empower arcade operators, with an aim of helping them enhance the affordability and profitability of virtual reality entertainment, while also offering players an improved visual experience.
Key Features of the DPVR E4C
Clear and Smooth Visuals: The E4C boasts a sharp 4K fast-LCD display with a 90Hz refresh rate and HDMI 1.2 connectivity, which the company states will provide users with smooth interactions, and will help to minimize motion sickness.
Expansive Field of View: The E4C offers a 116° field of view (FoV) for immersive engagement. The headset utilizes Fresnel lenses that company states "ensure clarity and minimal distortion, maximizing visual quality."
Effortless Transition: The E4C also features a 90° flip-up design that enables seamless shifts between the virtual and real world. Integrated three-color indicators provide real-time device status.
DPVR highlighted that the E4C is specifically designed for VR theme parks, and that the headset is well suited for use in conjunction with other hardware such as VR rotation chairs, shooting and flight simulations, VR motorcycles, and racing games. The company added that no matter what the immersive experience, the E4C can seamlessly integrate into a variety of VR theme park solutions.
With its 3 DoF functionality, the E4C provides chain arcades with a budget-friendly deployment option without compromising what lies at the core of arcade-based immersive experiences. The company also noted that the headset utilizes a durable 6-meter-long TPU cable so as to ensure a longer life span, and ultimately reduced maintenance costs for operators.
The headset can also cater to a broad audience thanks to its adaptive IPD range of 53-73mm, and head circumference specifications ranging from 53-66cm, meaning the device is suitable for users by all ages, including preschool children.  Furthermore, to allow arcade operators to accommodate high-traffic usage whilst still maintaining hygiene standards, the E4C comes equipped with a replaceable facial interface, allowing for a more a comfortable and clean experience for users.
Furthermore, the E4C boasts full compatibility with the DPVR Assistant, simplifying the setup process and allowing users to seamlessly access their SteamVR and other game libraries without reduced hassle, according to the company.
For more information about DPVR and its virtual reality solutions, click here. 
Image credit: DPVR

Sam Sprigg
Sam is the Founder and Managing Editor of Auganix. With a background in research and report writing, he has been covering XR industry news for the past seven years.